Pangraph Industrial Supplies Sdn Bhd
37, Jalan Cenderai,
Kawasan Perindustrian Kota Putri,
81750 Masai, Johor, Malaysia.

+607-3886288 (Hunting Lines)


Sales:
+60197562338
(24Hrs)
+60197562339
+60193812339
+60182652338
Poly Flap Discs
Tuff - Abrasives --- Coated Abrasives-Fibre Disc ---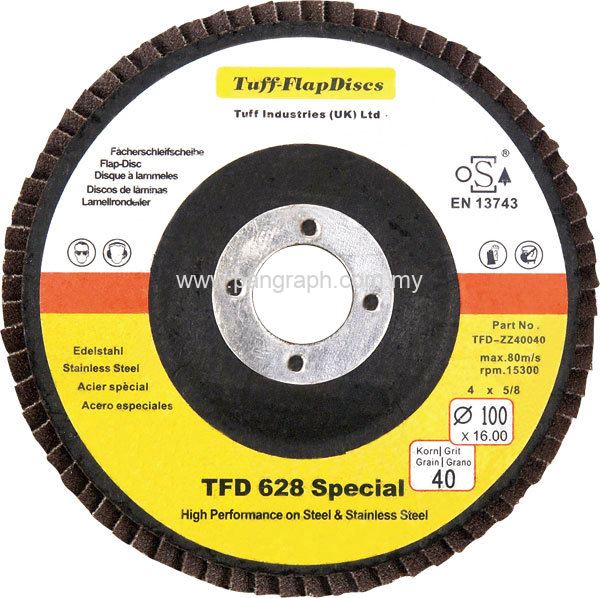 Carbon/Steel/Non-Ferrous Applications
Various types of Poly Flap Discs
- Zirconium
General Purpose
Made of top quality ZIRCONIUM grain. It provides superior stock removal with a fast and cool cutting action. Based on past field experience Zirconium oxide out-performs aluminium oxide by a good margin.
Applications
·Ferrous metals
·Non-ferrous metals
·Structural steel
·High tensile steels
·Stainless steel
·Brass
·Aluminum
·Cast Iron
·Plastic
POLY-FLAP discs have been developed primarily to replace sanding discs and to provide a one step operation, from grinding welds to detailed blending and finishing.
The improved reinforced fiberglass backing plate wears down evenly with the abrasive flaps while new gain surfaces are exposed to maintain a uniform cutting action. The disc fit directly onto your machine.