Pangraph Industrial Supplies Sdn Bhd
37, Jalan Cenderai,
Kawasan Perindustrian Kota Putri,
81750 Masai, Johor, Malaysia.

07-3886288

Tip Cleaner Series
Tuff - Gas Welding --- Equipment Welding, Kit / Accessories - Welding Accessories ---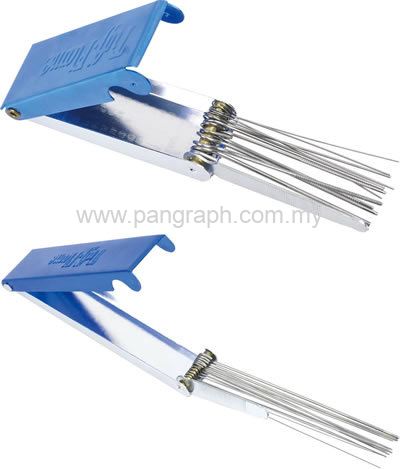 Tip Cleaner Series
Designed for cleaning of welding and cutting tips, gas range burners and de-soldering tools, and to allow for precision small hole de-burring. Precision manufactured from top quality stainless steel wire, uniform ridges wipe, tapered pilot ends, contained in a attractive blue anodized aluminium case.

Available in Standard and Jumbo Type.
| | | | | | | | | | | | | | |
| --- | --- | --- | --- | --- | --- | --- | --- | --- | --- | --- | --- | --- | --- |
| Cleaner No: | 6 | 7 | 8 | 10 | 12 | 14 | 15 | 16 | 17 | 18 | 22 | 24 | 26 |
| | | | | | | | | | | | | | |