Pangraph Industrial Supplies Sdn Bhd
37, Jalan Cenderai,
Kawasan Perindustrian Kota Putri,
81750 Masai, Johor, Malaysia.

07-3886288

PCM Series
Tuff - Gas Welding --- Equipment Welding, Kits / Accessories - Pipe Cutting Machine ---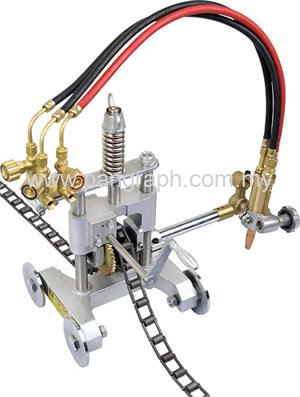 PCM Series
Pipe Cutting Machine Series
PCM Series is a durable chain type machine. Its lightweight design makes it portable for field jobs and workshop. Simple and easy to use for all types of pipe cutting work.
- Manual operation with no electricity required
- Flexible use from either side of PCM machine
- Allow movement in clockwise, anti-clockwise direction
- Quick chain interlocking system
- Adjustable torch handle for bevel cut
- Convenient design for easy handling of torch control valves and machine handle
Cutting Capacity
- Effective pipe cutting diameter: Ø114~Ø1200
- Thickness of pipe to be cut: 100mm
Cutting Shape
- I-Shape cutting and V-bevel cutting (up to 45°)
Torch Movement

- Range of vertical torch: 50mm
- Range of lateral torch: 100mm