Pangraph Industrial Supplies Sdn Bhd
37, Jalan Cenderai,
Kawasan Perindustrian Kota Putri,
81750 Masai, Johor, Malaysia.

07-3886288

Our Products
Tuff - ARC Welding --- Manual ARC Welding - Welding Cables ---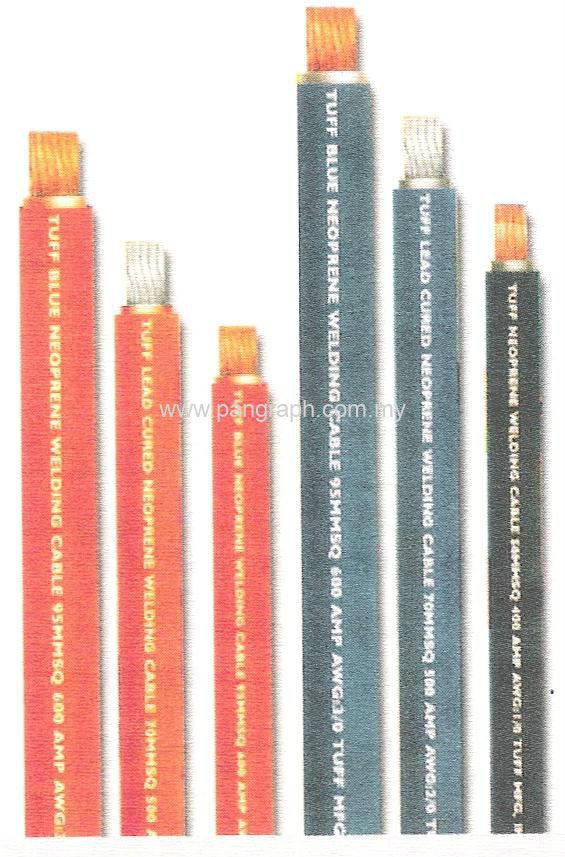 Use

As power feed leads from the welding
power source to the Electrodes.
Temperature Rating

-48°C to 85°C

Conductor

Stranded bare copper for Tuff-Cable or
Tuff Neoprene Welding Cable.
Stranded bare copper Lead Cured for Tuff
Lead Cured Neoprene Welding Cable.
Voltage Rating

1000 Volts
Separator

Tape wrapped for single insulation.
Neoprene rubber for double insulation.
Insulation

Neoprene (Polychloroprene) sheathed.
Nature Rubber for Tuff Black Welding Cable.

Features

High tear strength neoprene jacket with excellent resistance to oil, flame, abrasion and impact of run over by heavy loads. Designed as an all weather cable for indoor and outdoor use under severe environmental conditions, in blistering heat or sub zero temperature.
Osha Welding Cable Safety Requirements
- Coiled welding cable must always be spread out before using to avoid overheating.
- Welding cable must never be coiled or looped around the body.
- Cable must not be spliced within 10ft of the holder.
- Cable with damaged insulation must be repaired or replaced.
- Welding cable must be joined only by recommended connections.