Pangraph Industrial Supplies Sdn Bhd
37, Jalan Cenderai,
Kawasan Perindustrian Kota Putri,
81750 Masai, Johor, Malaysia.

+607-3886288 (Hunting Lines)


Sales:
+60197562338
(24Hrs)
+60197562339
+60193812339
+60182652338
Depressed Centre Grinding Wheels A30 RBF
Tuff - Abrasives --- Grinding And Cutting ---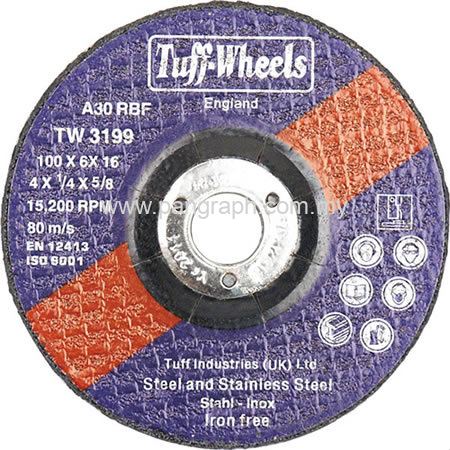 Stainless Steel Applications Iron Free (INOX)
Depressed center grinding wheel - A30 RBF
General Purpose
Fast grinding high quality white aluminium oxide grain has been used to obtain superior performance and in grinding ferrous metals. Improves grinding time and reduces operator fatigue.
Applications
·Ferrous metals
·Welds
·Structural steel
·Stainless steel
·Iron free
·Pipe
·Rebar
·Malleable/Steel cast